London Marathon 2021 – Well done Jonas!

A huge 'THANK YOU' to Jonas Tattersall who ran the London Marathon in October to raise money for AGLM UK – so far he has raised just over £2,700!
To sponsor Jonas click here.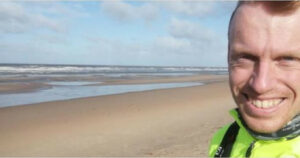 Covid 19 Response
AGLMUK has successfully secured a grant of £2,250 from the Welsh Government's WalesAfrica Programme to provide an immediate response to Covid 19 in partner communities in Uganda. The money is being used to spend on food for vulnerable members of the community in and around Bulabakulu.
Doreen (right), a primary school teacher, is accepting a delivery of poshu (maize flour), beans, rice and soap from Barry Atugonza (left) who is the Project Coordinator for AGLMUK. The schools in Uganda have been closed since 19th March and Doreen's school has not been in a position to pay staff salaries since.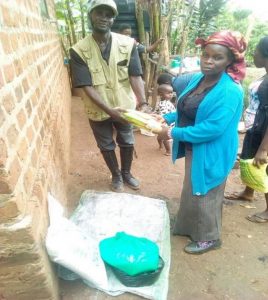 Harriet (right) is the nurse who is paid by AGLMUK to meet the health needs of the children currently funded to receive primary and secondary education. Here, she is delivering supplies to James who has a family of 5 to look after. As a boda-boda rider (motorcycle taxi) the Covid 19 lockdown has severely affected his ability to generate any income and he has found it very difficult to feed his family.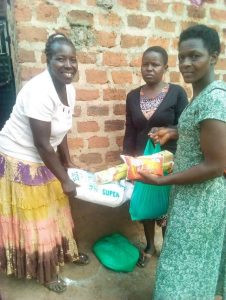 Rosemary (left) is a resident of Bulabakulu village and her main source of income has been making and selling handicrafts to foreign tourists. Since the closure of the Ugandan borders in March her income has been severely curtailed and she and her family have struggled to get enough food to eat. Here, Joseline (centre) who is paid by AGLMUK to oversee the welfare of the children currently funded to receive primary education, is delivering much needed provisions to Rosemary.
For further details click on the link below.
20th September 2020
Cases of Covid 19 are rising in Uganda and there have been 55 deaths registered from the virus.
There has not been a recent presidential address to give any update on when schools may be reopening. Rumours abound – including that they be reopening
next year or
'soon' but changing the school year or
'soon' but for examination forms only.
The reality is that we still do not know. Some courses are taking applications and some universities and colleges are continuing with online courses, but not many.
Joseline and Barry have been in touch with the students and their families and we have authorised the use of some of the fee money to help with food. We have also allocated some of AGLMUK's general funds as a hardship fund and Barry and Joseline can make small grants to people in need. Some of these were young people previously supported by AGLMUK who are struggling to work and so cannot meet their basic needs in the current climate.
See the link above for details of the grant of £2,250 that AGLMUK received from the Welsh Government's Wales and Africa Grant Scheme for emergency Covid Response measures. This was used to buy food and soap for 68 families – helping a total of 366 people.
6th July 2020
In Uganda the official number of Covid cases is only 850 with no deaths reported, but there is only limited testing.
All schools, colleges and universities remain closed and, as in most of the UK, they still have no firm dates for reopening.
We are in regular contact with our partners and some of the young people via social media. The biggest problems seem to be access to, and sufficient funding for, food.  Public transport – called 'taxis' but look like minibuses – are operating again but can only carry a maximum of seven passengers.
This is half the usual number and so passengers are being charged double.
Boda bodas  are the motorbike taxis which usually transport people and goods.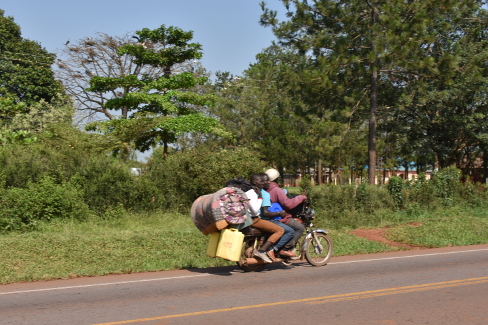 They are used widely and are not only found in the towns but go where larger vehicles cannot e.g. up muddy rural roads. Currently they are only allowed to carry luggage.  This means that to get to buy food people have to be able to walk to the markets. Usually people buy food on a daily basis and the lack of transport and work is making life very difficult.
So – we are helping!  Thanks to generous supporters – recently and in the past – we have been able to send money for food and Joseline has been distributing food locally to families in need. For those further afield Barry is able to help with mobile money transfers.