6th July 2020
In Uganda the official number of Covid cases is only 850 with no deaths reported, but there is only limited testing.
All schools, colleges and universities remain closed and, as in most of the UK, they still have no firm dates for reopening.
We are in regular contact with our partners and some of the young people via social media. The biggest problems seem to be access to, and sufficient funding for, food.  Public transport – called 'taxis' but look like minibuses – are operating again but can only carry a maximum of seven passengers.
This is half the usual number and so passengers are being charged double.
Boda bodas  are the motorbike taxis which usually transport people and goods.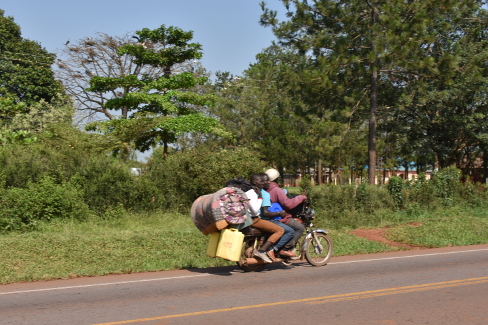 They are used widely and are not only found in the towns but go where larger vehicles cannot e.g. up muddy rural roads. Currently they are only allowed to carry luggage.  This means that to get to buy food people have to be able to walk to the markets. Usually people buy food on a daily basis and the lack of transport and work is making life very difficult.
So – we are helping!  Thanks to generous supporters – recently and in the past – we have been able to send money for food and Joseline has been distributing food locally to families in need. For those further afield Barry is able to help with mobile money transfers.